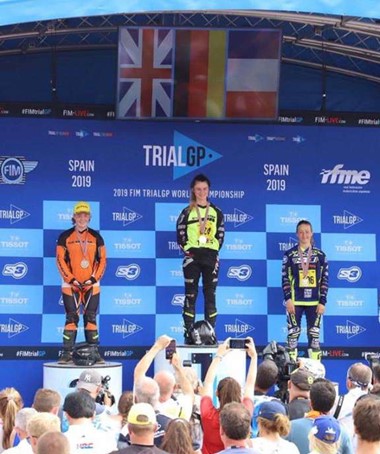 Alice is Riding High 
During the summer holidays, Alice Minta (Year 11) took part in the Trial 2 Women's World Championships.
During the summer holidays, Alice Minta (Year 11) took part in the Trial 2 Women's World Championships. They took place in Portugal, France and Spain. Alice came second in all of her races which meant that she finished second overall. In the final standings, Alice was tied on points and only lost out on the Championship because the leader had the most wins overall. Alice is now going to be competing in the British Championships in Devon in October and we wish her the best of luck. Here's what the ACU (Auto Cycle Union) website had to say: At just 15 years of age, Alice Minta (Scorpa) is one of the youngest riders in the 2019 FIM Trial World Championship but the British teenager isn't about to let her older, more experienced rivals enjoy the upper hand. In fact, Alice already has 10 years of riding Trial to her name and in her first season of World Championship competition currently sits a solid second in the Trial2 Women class after runner-up finishes in Portugal and France. With just the final round – TrialGP Spain – left on the calendar, Alice still has her eyes on the big prize as she continues her journey in the sport.
"Although I went for the overall experience, I was aiming to come away with a podium finish [in Portugal]," she said.
"I have been practising hard over the summer and will always give it 100 per cent effort. I will be aiming for the top spot but anything can happen and an overall finish on the podium would still be amazing." Alice comes from a family of Trial riders – her two older brothers also compete – and being both British and female ensures that she's never struggled to find role models. "In the UK it has to be the 'Wheelie Man' Dougie Lampkin but overall I like watching Laia Sanz." Although she's six points behind current series leader Vivian Wachs (TRRS) from Germany, Alice is not short of confidence and hasn't given up on winning the Trial2 Women title at her first attempt – but she's already focussing on 2020.
"It would mean a lot to me as a rider and bring me confidence. My dad has done so much to support me and I would like to prove what I can achieve by continuing to work hard." "Next year I hope to be a competitor in the TrialGP Women class [and] in a few years I certainly hope to challenge Emma Bristow and any other women's titleholder." Following its traditional summer break, the 2019 FIM Trial World Championship resumes on September 21-22 with TrialGP Spain – the seventh and final round of this year's series – at La Nucia just north of Benidorm.
Date Published: 12 Dec 2019