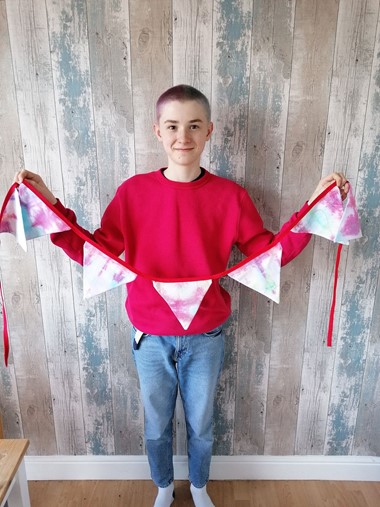 Flexible Friday sees students step away from their screens to do something completely different
Pupils at Charlton School, Wellington, stepped away from the screens on Friday as part of their Super 7 Challenge.
Staff are encouraging the young people to turn off their computers and take part in practical activities, from sports to baking and crafts.
Last week saw Flexible Friday, when they spent the day on their off screen challenges to support Autism Awareness.
One of those taking part was Tommy Taylor from year nine, who has been making bunting.
He tie-dyed some fabric and showed his skills on the sewing machine to create a seven flag row of bunting.
Tommy's parents send a letter to the school to thank staff for the project and for their hard work.
Sarah Davies, House Activities Lead at Charlton said March 29-April 4 was National Autism week and this year the charity was focusing on a Super 7 challenge.
The condition can make certain life situations a challenge for these individuals and one of these is school life, where individuals with autism must overcome many daily challenges.
"For the next seven weeks we are challenging all students, staff, parents, and carers to actively participate in our Super 7 Challenge, a challenge to suit everyone.
Students can choose which challenges they want to succeed at and help to raise awareness of the condition of Autism whether taking 70,000 steps, researching the seven wonders of the world and making a model of one, or writing a seven word a day short story.
During Autism week pupils will be show a series of films providing an insight into the challenges individuals with autism have to overcome, to be accepted, understood, and supported by their community.
"Also, we want to inform our students of the barriers which an individual who has autism, has to overcome, in order to allow them to achieve. As their peers, they can support with this."
Date Published: 14 May 2021