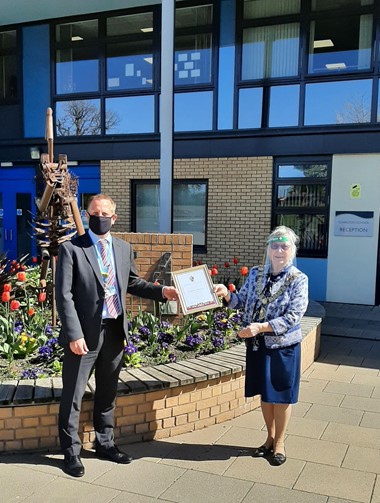 Pupils and staff are praised for going above and beyond
Our school has received special recognition from a town mayor for the way pupils and staff have helped the community over the last year.
Charlton School, in Wellington, received an award for its commitment to supporting pupils and their families. The secondary school was nominated by councillors for the award.
Mayor of Wellington, Councillor Patricia Fairclough, visited Charlton to present the award to the principal, Andrew McNaughton.
She said the award was for the school's tireless hard work and for going above and beyond to serve the community during the pandemic.
Councillors had been impressed with the level of communication and commitment staff had shown to its pupils and their families.
Mr McNaughton thanked the mayor and told parents: "I would like to publicly take this opportunity to thank the staff who are working tirelessly to meet the additional expectations that have been placed on them.
"For instance, their work in marking and moderating numerous assessments to provide sufficient evidence to accurately grade the students this summer.
"The demands on staff time and the pressures on them have never been greater, this is on top of the additional demands the Covid restrictions place on them already.
"The commitment staff have shown to home learning and supporting the wellbeing of our students is second to none.
"I am indebted to the dedication of the staff as they continue to do the very best for our students".
Charlton has established links with across the community and says partnerships with the Learning Community Trust, wider community partners and families is central to its success
Date Published: 14 May 2021